WebChecker™ 1.2.1

A StuffIt archive of WebChecker is available for download (636k).

WebChecker has a $10 registration fee. You can register online via Kagi.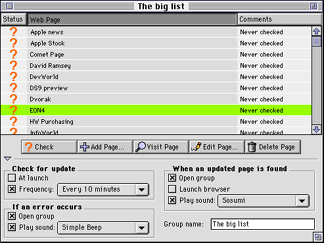 Do you have web pages you check frequently? WebChecker will help you!
WebChecker is a utility program designed to help you manage web pages you check frequently. It will check to see if a web page has been modified, and will notify you - or even automatically launch your favorite web browser - when it detects any changes.

WebChecker requires System 7 or later, and a 68020-based Macintosh or better. WebChecker comes in both 68K and PowerPC versions. WebChecker requires a direct or dial-in internet connection. It supports Open Transport or "classic" Macintosh TCP/IP.
WebChecker is not supported as a "Classic" app under OS X.
WebChecker supports Netscape Navigator or Microsoft Internet Explorer. It does not support Apple's CyberDog, because it does not implement the Mosaic AppleEvent suite.
NOTE: WebChecker cannot access the internet through a proxy server or similar internet firewall.

Release 1.2.1 (11 November 1998):
Turn on extended page checking by default.
Better error handling if there's not enough memory for the web browser.
Enhance extended page checking for better accuracy.
Release 1.2.0 (16 July 1998):
Fixed crashing bug when parsing very large web pages.
Fixed importing of bookmarks from previous versions.
Added extended checking method.
Release 1.1.1 (15 April 1998):
Fixed application creator type (coulda sworn I fixed this before!)
Fixed bug where window title wasn't reflecting group name.
Fixed bug where too many items in list would cause garbled text.
Fixed bug that would chop off first character on imported URL's.
Fixed bug where new groups could not be opened once closed.
Fixed blank status icon when adding new web page.
Release 1.1.0 (17 February 1998):
Fixed blank status icon when adding new web page.
Fixed restoring window sizes & positions.
"Page modified" icon now reflects current browser selection.
Changed storage of groups and items to simplify future expansion.
Extended preferences options.
Added 'skip re-checking new' feature.
Added date & time of last visit or update to pages.
Fixed bug that prevented deletion of groups.
Fixed bug in "Mark as 'visited'" function that wouldn't make changes permanent.
Fixed bug in "Mark as 'updated'" function - didn't work at all.
Added 'Save' to file menu (data normally saved at exit or after checking).
Launch, Add page, and close menu options only available when window open.
Changed creator type to prevent conflict with MacWebCamera.
Updated grayscale appearance.
Updated internet functions for more reliability and better performance.
Added "Check all groups" menu option.
Release 1.0.1(15 May 1997):
Fixed compatibility problem when running the PowerPC version with "Classic" Mac TCP/IP.
Release 1.0.0 (12 May 1997):
---